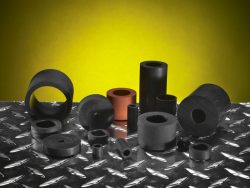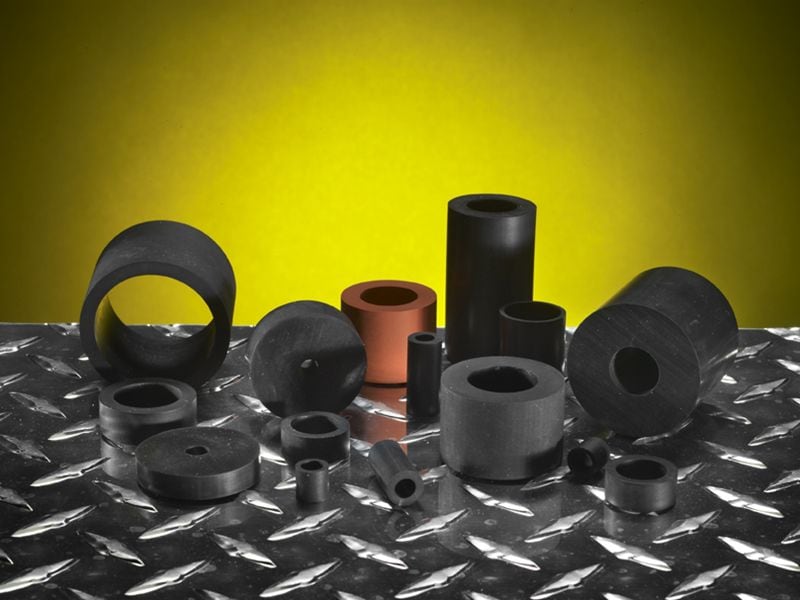 Installing rubber bushings helps applications establish interfaces between two parts, and these products also dampen vibrations or excess energy. As a result, rubber bushings see many uses in manufacturing applications and finished products, including as:
Vibration isolators
Abrasion resistors
Shock absorbers
Seals for wires, pipes, and rods
At Thomas A. Caserta, we manufacture rubber bushings to precise specifications with quick turnarounds. We work with clients to determine their desired bushings' size, shape, and composite materials, and then we machine the bushings to tight tolerances. We can construct rubber bushings from many different materials, and we build them using an array of processes that emphasize accuracy and repeatability.
View our Rubber Bushing Products
Advantages of Rubber Bushings
Using rubber bushings in your machinery and tooling comes with many advantages, including:
No need for lubrication: Rubber bushings remove the need to lubricate the space between two parts
Reduced wear on machinery (and a quieter facility): Rubber bushings prevent parts from rattling against each other, resulting in less wear and tear on your machinery as well as a safer environment for employee eardrums
Customizable: We can precisely tailor rubber bushings to achieve optimal performance in their end application
Less maintenance: Installing rubber bushings in your machinery and products results in a long, maintenance-free service life
Because rubber bushings are exceptionally flexible and easy to install, many industries and applications rely on them, such as:
Construction

Highway equipment
Drilling equipment

Aerospace
Consumer appliances and goods
Automotive

Shock absorber mountings
Gear sticks
Suspension systems
Specialized internal combustion engines

Electrical
Fastening
Plumbing
OEMs
Sealing applications

Used with wires, pipes, and tubes to act as seals
Our Custom Rubber Manufacturing Services
Thomas A. Caserta manufactures high-quality rubber bushings using cutting-edge equipment and processes, ensuring that every project results in the best possible product. Some of our services include:
Lathe cutting: We insert a mandrel into an extruded rubber tube and then cut the finished dimension with a knife, turning the mandrel at high speeds in a lathe
On-demand cutting: We custom design our on-demand cutters, outfitting them with intermittent stop-and-go technology that allows us to complete up to 800 cuts per minute
Water jet cutting: We use this process to cut materials into predefined shapes and sizes from sheet or roll stock
Hand cutting: For bushings that require a personal touch, we cut materials from stock by hand
Caserta also uses a variety of materials to manufacture rubber bushings. Each material suits a specific application and fulfills unique needs:
EPDM: Allows products to resist a wide range of temperature and weather extremes
Neoprene: A general-purpose elastomer that helps bushings resist water, oil, ozone, and mild acids
Nitrile: Offers excellent resistance to petroleum products
SBR: Helps products adhere to various substrates while boosting resilience
Silicone: Resists dry heat and low temperatures very well, providing the best temperature range of all elastomers
Viton: Resists heat, chemicals, and solvents
Quality Rubber Bushings at Thomas A. Caserta
With over 50 years of experience manufacturing rubber bushings, our talented staff looks forward to help you tackle your next project. We strive to provide our clients with quality service that meets or exceeds your expectations.
If you would like to learn more about our rubber bushings or our other products, contact us today.