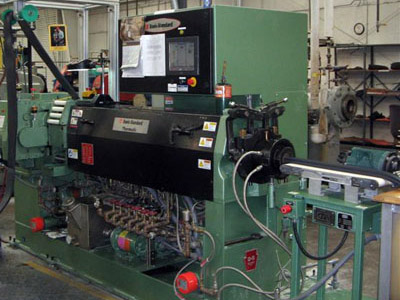 Our rubber extrusion department extrudes custom rubber tubing and rubber cord to your specification. The process of extrusion involves forcing uncured rubber through a die to form a desired, uniform, cross-sectional size and shape before curing.
Thomas A. Caserta, Inc. utilizes our sate-of-the-art extruders to produce high quality rubber tubing and rubber cord in a wide variety of materials. Our rubber extruders are equipped with the latest development in control systems and screw and barrel design. All our dies are made in-house and usually at no cost to the customer, which means fast turnaround times for prototype as well as production run extrusions.
We can supply are extruded rubber tubing and rubber cord on spools, cut in straight lengths, or coiled and boxed. We also cut rubber tubing and rubber cord to desired length to form rubber washers, rubber bushings, rubber spacers, rubber gaskets, rubber stand-offs, and rubber discs.