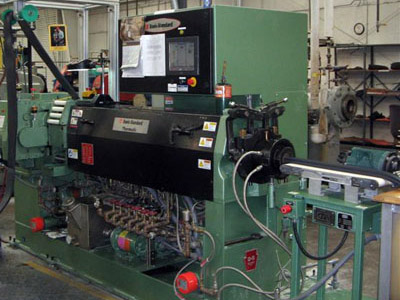 Our rubber extrusion department extrudes custom rubber tubing and rubber cord to your specification. The process of extrusion involves forcing uncured rubber through a die to form a desired, uniform, cross-sectional size and shape before curing.
Thomas A. Caserta, Inc. utilizes our sate-of-the-art extruders to produce high quality rubber tubing and rubber cord in a wide variety of materials. Our rubber extruders are equipped with the latest development in control systems and screw and barrel design. All our dies are made in-house and usually at no cost to the customer, which means fast turnaround times for prototype as well as production run extrusions.
We can supply are extruded rubber tubing and rubber cord on spools, cut in straight lengths, or coiled and boxed. We also cut rubber tubing and rubber cord to desired length to form rubber washers, rubber bushings, rubber spacers, rubber gaskets, rubber stand-offs, and rubber discs.
Thomas A. Caserta, Inc. offers the most reliable and reputable rubber extrusion services used in different applications by numerous industries. Our state-of-the-art in-house facility can achieve rubber tubing or rubber cord products according to your unique specifications and requirements.
We're rubber extrusion manufacturers specializing in custom rubber extrusions to ensure you receive results of the highest quality and meet your exacting standards. Our advanced extruders and experienced technicians can handle any size or shape you require, no matter how complex.
We Deliver Quality Rubber Products Through
Rubber Extrusion
Thomas A. Caserta, Inc. is a reliable manufacturer of different rubber products through our improved rubber extrusion method. Through this, we can work on any product you're looking for to complete your projects.
If you have any questions about our services, don't hesitate to contact us today. Or you may request a quote, and we'll provide a rough estimate corresponding to the rubber product shape, size, and material you need.