Rubber gaskets are a type of washer cut from rubber sheets. These sheets are cut into various shapes, sizes, and thicknesses to suit a variety of applications ranging from everyday home use to industrial settings. Gaskets are used to prevent leakage when placed between two surfaces, making them critical in a broad variety of environments and specific applications.
At Thomas A. Caserta, our industry-leading cutting machines allow us to manufacture rubber gaskets which can meet any size, tolerance, or material requirement.

Advantages of Rubber Gaskets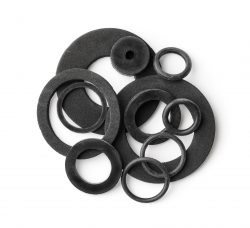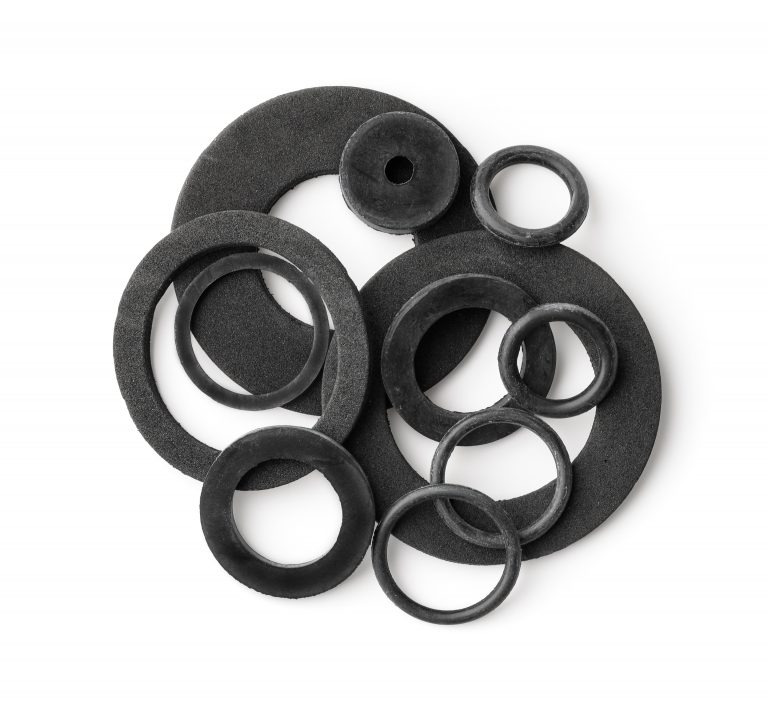 Rubber gaskets offer a variety of benefits for industrial applications, such as:
Durable. Rubber's resistance to aging, ozone, and UV light translate into exceptional longevity and ruggedness. Rubber is also virtually impervious to wear, acid, and gases.
Temperature resistance. Rubber gaskets are ideal in extreme temperature environments, such as the petroleum sector. Custom rubber gaskets boast a very broad temperature tolerance range, based on the specific formulation of the rubber. It can handle frigid temperatures, as well as hot temperatures up to 500° F.
Color stability. Applications in which aesthetics are valued can benefit from the use of rubber gaskets. Rubber gaskets won't fade or leave stains when removed.
Affordable. Rubber gaskets are more affordable than most other gasket materials.
Rubber Gaskets from Thomas A. Caserta
Thomas A. Caserta relies on our fleet of advanced equipment to produce custom rubber gaskets made to the stringent specifications of our clients. We're well-equipped to guide our customers through every step, from purchasing through design and manufacturing. From prototypes to finished products in runs of all sizes, we're committed to ensuring quick turnaround times and providing excellent service.
Our extensive collection of equipment ensures we're ready to take on any project. Some of this equipment includes:
Extruders
Grinders
Lathes
Vulcanizers
Autoclaves
Waterjet cutters
Our custom rubber gaskets are used in an extensive range of applications. Many of our clients work in the manufacturing field and create products for appliances and other machinery. Other industries served include:
Construction
Plumbing
Aerospace
OEM
Electrical
Fastening
Automotive
Rubber Products for Any Industry
Thomas A. Caserta has been providing critical rubber products for more than 70 years. Our strong emphasis on customer satisfaction and our ability to offer a wide range of quality products positions us as industry leaders. In addition to our rubber gaskets, we also offer:
Rubber washers
Rubber bushings
Rubber tubing
Rubber gaskets
Rubber cord
We use multiple natural and synthetic rubber materials to create our gaskets and other products. Depending on the application, materials can be selected to increase durability, temperature resistance, aesthetics, and a number of other factors. Our most commonly used materials include:
EPDM
Neoprene
Nitrile
SBR
Silicone
Viton
Request Your Silicone Gaskets with Caserta Today
Thomas A. Caserta has long been recognized as a leading manufacturer of high-quality rubber gaskets, seals, and other custom rubber products. Our team is capable of supplying rubber parts with quick turnaround times. Our reputation for excellence has been built on our consistent delivery of effective design, engineering, and manufacturing solutions tailored to meet even the most demanding requirements.
If you're interested in learning more about our custom manufacturing capabilities, submit a request for further information today.