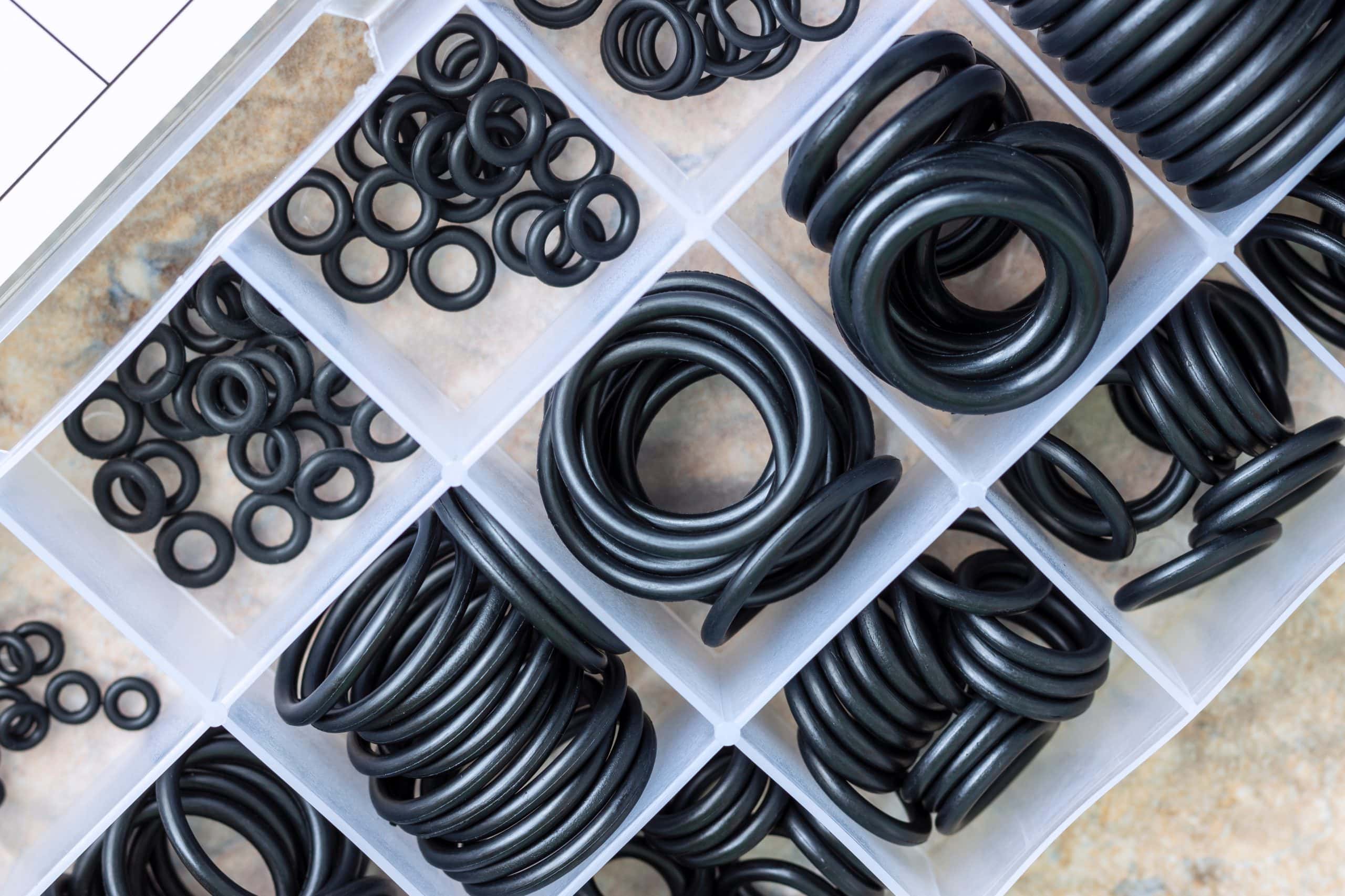 Silicone rubber is a resilient, rubber-like elastomer made up of silicon, oxygen, hydrogen, and carbon. Its properties can vary widely depending on its chemical structure and organic groups. All silicone products have a Si-O bond, which offers better electrical insulation, heat resistance, chemical stability, and abrasion resistance than natural rubber. These are ideal properties for industrial high-temperature gasket materials.
Learn more about the features, benefits, and applications of silicone rubber gaskets and seals.
Key Properties of Silicone Rubbers
Silicone's Si-O chemical structure and strong bonds contribute to its reliable performance. Other features of silicone rubbers are:
● Wide temperature range: The material's thermoxidative and thermal resistance means it can withstand very low and high temperatures without compromising performance.
● Oxidation resistance: Silicone maintains its structural and chemical properties in the presence of oxygen and ozone.
● Low toxicity: Silicone rubbers have low toxicity and low chemical reactivity, so they do not break down with chemical contact.
● UV resistance: Silicone is resistant to particle and electromagnetic radiation, including alpha, beta, gamma, and UV rays.
● Biocompatibility: Silicone is safe to use in direct contact with humans.
● Mechanical and physical properties: The material is known for its high tensile strength, tear strength, and elongation. Silicone rubbers also provide good optical transparency, electrical insulation, and non-stick properties.
Materials Used in High-Temperature Gasket Fabrication
High-temperature gaskets are fit for use in machinery that encounters high temperatures. Our heat-resistant seals can withstand high temperatures ranging from 350 ˚F (177 ˚C) to 2300 ˚F (1260 ˚C). These seals also perform reliably in operations involving combustible fluids and fire.
We make high-temperature gaskets from a range of high-quality elastomeric materials, including EPDM, silicone, fluorocarbon, fluorosilicone, silicone-coated fiberglass, and conductive silicone. Each material has a unique operating temperature range:
● Silicone: 400 to 500 °F (204 to 260 °C)
● EPDM: over 400 °F (204 °C)
● Conductive silicone: -100 to over 500 °F (-73 to 260 °C)
● Silicone coated fiberglass: 500 °F (260 °C)
● Fluorosilicone: 400 to 500 °F (204 to 260 °C)
● Fluorocarbon: 400 to 500 °F (204 to 260 °C)
Applications of Silicone Seals
These industries and applications rely on high-temperature elastomeric gaskets and seals for daily operations:
● Aerospace
● Automotive
● Appliance
● Construction
● Electrical
● Fastening
● OEM
● Medical
● Mechanical
● Plumbing
Advantages of Silicone Seals
Silicone is a synthetic rubber produced by mixing silicon with hydrogen, oxygen, carbon, and other additives. Unlike other polymers, silicone has a Si-O structure instead of a carbon-based structure. These features give silicone seals the following benefits:
● Acid and solvent resistance: Silicone can resist solvents, acids, bases, oils, chemicals, and water, so it performs well in sealing applications that involve these substances.
● Weather and temperature resistance: Unlike natural rubber, silicone is fit for outdoor gasket applications because it can withstand ozone, UV rays, and high temperatures.
● Versatility: Most silicone sealing applications are found in consumer goods: baking sealants, swim goggles, food storage containers, and appliances. However, they are versatile enough for use in industrial applications as well, such as plumbing components, electrical insulation, automotive seals, and construction equipment.
● Medical safety: Medical applications of silicone seals include incubators, dialysis machines, and pumps. Silicone gaskets are biocompatible and nontoxic, and certain grades are FDA-approved for use in medical settings.
Heat Survival vs. Functionality: The Influence of Heat on Silicone Rubber
Withstanding a heat aging test does not necessarily indicate the rubber's fitness for a certain application. Most heat aging tests assess elongation and tensile strength as markers of permanent deformation after exposure to high temperatures. However, materials that pass these tests can still perform poorly in real-world applications because of the longer duration of exposure to elevated temperatures.
Even if these temperatures are not as high as testing temperatures, continuous, extended exposure can still cause the rubber to exhibit compression set. Compression set is a level of permanent deformation that a material takes on as a result of a certain period and amount of compression. When comparing different rubber sealing materials, note their test temperatures as well as their compression set properties. Compared to natural rubber, which is heat age tested at 23 ˚C, silicone rubber is heat age tested at about 170 ˚C and retains its functionality and stability above this temperature.
Why Choose Caserta for Your High-Temperature Gasket Needs?
For over 70 years, Thomas A. Caserta, Inc. has manufactured custom high-quality rubber products for clients in critical industries around the world. In addition to high-temperature gaskets and seals, we produce tubing, cords, washers, and bushings. Our experts work with silicone, EPDM, nitrile, neoprene, SBR, and Viton®, and we can customize products according to your unique specifications for size, application, color, and adhesives.
To make high-temperature silicone gaskets, we perform manufacturing processes like die cutting, lathe cutting, and waterjet cutting to produce superior results. As a high-temperature gasket material supplier, we understand the unique needs of various demanding applications and strive to deliver reliable solutions for them. Request more information today to learn more about our products and services.