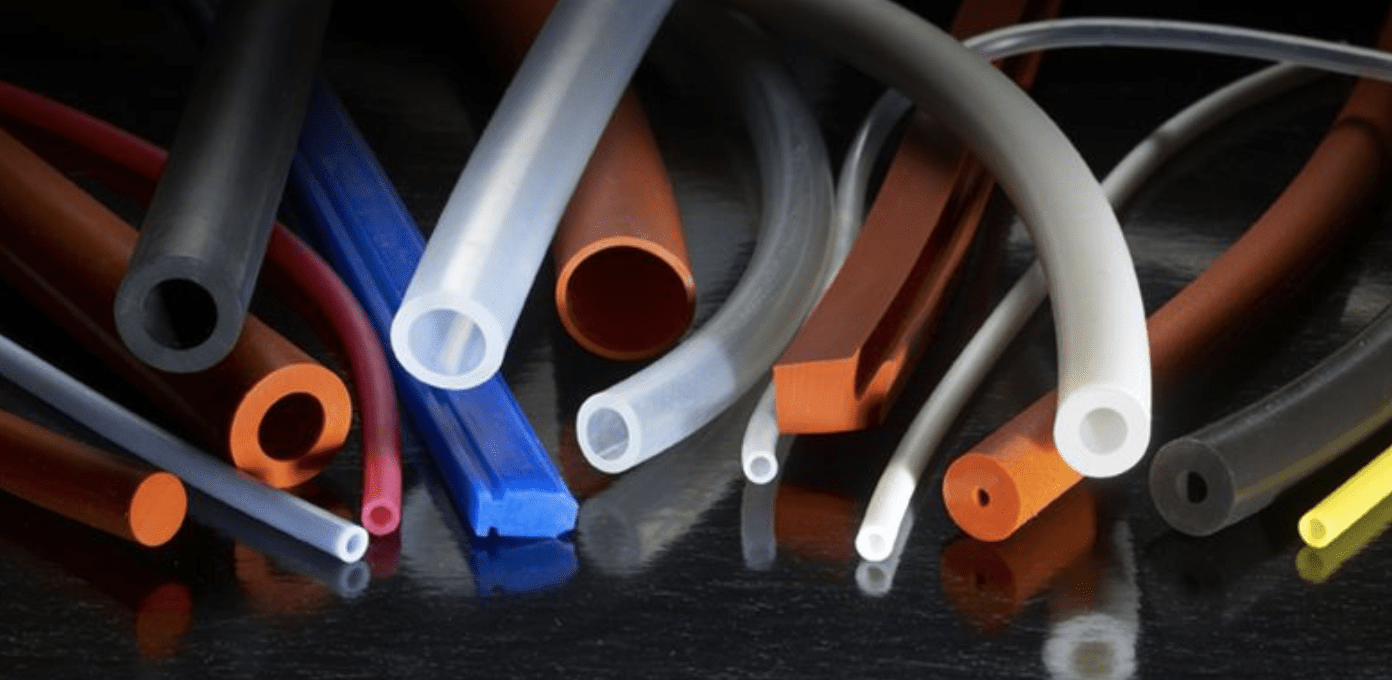 Silicone rubber tubing is a versatile material prized for its heat tolerance and flexibility. It can be manufactured as a medical grade material, which makes it popular for use in the medical industry. In addition, silicone tubes are highly resistant to weather conditions, UV radiation, and ozone degradation, making them an ideal option for the aerospace and electrical industries.
As an experienced manufacturer of high quality rubber products, Thomas A. Caserta, Inc. has the expertise to produce silicone tubes to a variety of specifications that are guaranteed to meet all of your application requirements.
The Caserta Difference
The team at Thomas A. Caserta, Inc. utilizes a number of methods to manufacture our rubber tubing, washers, gaskets, and bushings. Our manufacturing processes include rubber extrusion, high-speed knife and guillotine cutting, die cutting, lathe cutting, and water jet cutting. This wide variety of cutting and shaping methods allow us to make custom rubber materials specifically for of your industrial needs.

Our silicone rubber tubing offers a wide array of benefits for use in industrial applications, such as:
Superior flexibility. Silicone rubber tubing provides the advantage of high flexibility over a range of temperatures. Unlike some high temp rubber tubing, flexible silicone rubber tubing does not soften when exposed to higher temperatures or harden in extremely low temperatures, making it ideal for use in extreme environments.
Broader temperature resistance. In addition to retaining their flexibility, silicone tubes are highly resistant to extreme temperatures, UV radiation, and ozone, so they are less likely to degrade due to exposure. This quality makes them ideal for outdoor use and aerospace applications.
Higher strength. Silicone rubber tubing retains high tensile strength. This quality reduces wear and tear and breakage, making the tubing ideal for high stress, high traffic industries, such as plumbing and foodservice.
Smoother surface finish. The smooth inner and outer surface finish of our food grade and medical grade silicone tubing makes it ideal for applications that require a smooth, sterile surface to prevent contamination, such as are found in the medical, foodservice, and analytical instrumentation industries.
Better pliability. The pliable nature of silicone rubber allows it to be used in confined and high pressure applications where a more rigid rubber material could break or tear.
Silicone Tube Industrial Applications
Due to the benefits listed above, silicone rubber tubing is employed throughout several different industries, including:
Medical
In the medical industry, medical grade silicone rubber is used for surgical tubing and drains, respirators, CPAPs, and peristaltic pumps, due to its hypoallergenic, non-toxic, and chemical resistant nature.
Analytical Instrumentation
Due to the need for flexible and sterile equipment, silicone rubber components are highly regarded for use in analytical instrumentation.
Electronic Equipment and Automotive
Silicone is an excellent electrical insulator, making it ideal for use in electronics across many industries. It is often used to insulate electrical components in automotive electrical enclosures.
Food & Dairy Processing
Food grade silicone tubing is perfect for beverage dispensing, dairy processing equipment, and other food industry applications that require sterile and flexible materials with high heat and chemical tolerances.
Water Filtration & Purification
Due to its non-toxic properties and smooth interior and exterior finish, silicone rubber tubing is used frequently in water purification and filtration systems.
Aerospace
Silicone rubber tubing is used extensively in the aerospace industry in equipment such as climate control systems and fluid conveyance systems.
Due to its high tensile strength, temperature resistance, and flexibility, silicone rubber is also frequently used for vehicle and aircraft vacuum seals.
Get in Touch With Our Manufacturing Experts
Whether you are a medical equipment provider who needs medical grade silicone tubing or an engineer seeking the best tubing material for your project, at Thomas A. Caserta, Inc., we have the manufacturing expertise to custom design and create silicone rubber tubing to your specifications. We pride ourselves on our ability to quickly and accurately manufacture rubber components to our customers' individual needs, regardless of the size of the job.
Our silicone rubber materials are second to none and easily customized to meet your particular needs. To learn more about our custom silicone rubber tubing, request a quote today.