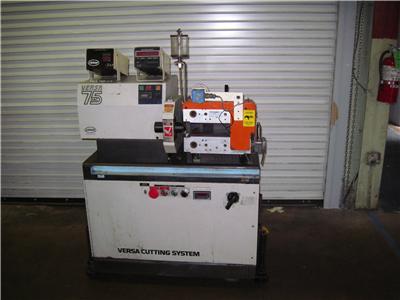 Request Your Quote
High-speed on-demand cutting has revolutionized the way we process rubber. Thomas A. Caserta, Inc., a trusted leader in the metal industry, uses rubber cutting tools to make precision cuts faster than ever before — and with unparalleled accuracy. 
This state-of-the-art technology is designed to reduce cycle times while ensuring quality results every time. With its high-speed capabilities, this technology can cut through any material quickly and precisely, regardless of size or shape. 
Our high speed on-demand cutters are a very cost effective method of producing rubber washers and rubber gaskets. These "flying knife" type cutters cut rubber tubing into rubber washers and rubber gaskets at high production speeds with minimal waste of material.
Thomas A. Caserta, Inc. has our on-demand cutters custom made with intermittent stop-and-go technology that provides an efficient cutting process of up to 800 cuts per minute. Due to the brief stop, high length accuracy and precise right-angled cuts are achieved. Our high speed on-demand cutting services offer fast turnaround time, precise tolerance, high production volume, and prototype and short run production.
We utilize our high speed on-demand cutters to consistently produce high quality, precision cut, rubber washers, rubber gaskets, rubber bushings, rubber spacers, rubber stand-offs, and rubber discs.
Most trusted High-Speed Demand Cutting at Thomas A
Thomas A. Caserta, Inc. provides advanced high-speed demand-cutting machines built with quality and safety as top priorities. The result is a highly efficient, reliable machine that can accommodate any business or manufacturing need that requires this type of machinery. 
It is our commitment to you to provide you with the best precision tooling systems on the market today and a customer service experience that satisfies your needs fully. That's why if you're in the market for an industrial cutting rubber device that gets the job done quickly and accurately. Contact us today and show us how we can help take your business to the next level with state-of-the-art performance-cutting solutions!