Nitrile and neoprene are rubbers that exhibit similar properties, but with differing characteristics that make them useful for different applications. Both materials are elastic, and will return to their original shape when stretched. Nitrile is particularly resistant to chemicals, abrasion, and temperatures, while neoprene is valued for its weather resistance and durability.
Below we provide a more in-depth look at the properties and advantages of nitrile and neoprene and their industrial uses.
Browse through our product catalogs:
Neoprene Products     Nitrile Products
Properties & Advantages
Although nitrile and neoprene display similar properties, they are different substances, each with its own unique chemical makeup.
Nitrile is composed of acrylonitrile and butadiene polymers, which are chemically treated to enhance branching. The molecular composition of the polymers is not highly organized, so different fillers can be added to enhance or improve properties such as tensile strength and heat resistance.
Neoprene, or polychloroprene, is a synthetic rubber made up of polymers of chloroprene molecules through a process of free radical polymerization and various chemical reactions. The polymers are chemically treated to enhance polymer branching, for a more flexible material.
Nitrile Properties
Nitrile displays numerous properties that make it ideal for industrial applications, including:
Extremely high chemical resistance. Nitrile is highly resistant to oils and solvents, such as engine oil, gas, alkalis, acids, and petroleum-based hydraulic fluids. This makes it useful for components frequently exposed to harsh chemicals and fuel.
Exceptional abrasion resistance. Nitrile is resistant to abrasive forces and does not tear easily. This makes it ideal for components that encounter a great deal of friction, such as washers and diaphragms.
High water resistance. Nitrile is highly resistant to water-based corrosion and will not break down or become waterlogged when exposed to water. It is particularly valued for use in waterproof gloves.
Neoprene Properties
Neoprene also has a variety of physical properties that make it useful in industrial applications, including:
Exceptional weather resistance. Neoprene displays resistance to weather, ozone, UV radiation, freons, and mild acids. This makes it ideal for use in outdoor applications.
Excellent impact resistance. Neoprene is highly durable and impact resistant, which makes it valuable for gaskets and seals in high impact industrial machinery.
Elastomeric. Neoprene is highly flexible and returns easily to its original shape. Its resilient nature makes it useful for industrial components that require both strength and flexibility.
Material Advantages
As evidenced above, both nitrile and neoprene offer distinct advantages for use in industrial applications. Nitrile is valuable for its superior chemical, abrasion, and water resistance. Neoprene, on the other hand, is prized for its particular resistance to weather and impact. Due to their particular properties, each material is used for a different range of products.
Standard Rubber Products
While both nitrile and neoprene display similar elastomeric properties, their differing chemical and physical characteristics make them useful for distinctly different applications and industries.
Nitrile rubber products are highly valued in the aerospace, defense, infrastructure, medical, and mobile equipment industries. Common nitrile product applications include:
Fuel systems. Nitrile is used in fuel tanks, gas hoses, oil seals, and other fuel system components.
Mobile equipment. Nitrile is often used in mobile equipment components, such as carburetors and hydraulic hoses.
Military vehicles. Military vehicles rely upon nitrile seals and gaskets in their fuel systems and hydraulic hoses.
Medical gloves. Nitrile is a popular option for highly durable and disposable medical gloves.
Neoprene is commonly used for rubber washers, gaskets, bushings, and tubing. Neoprene is popular for sealing and insulation applications such as: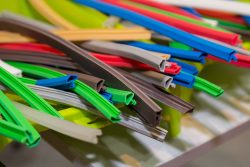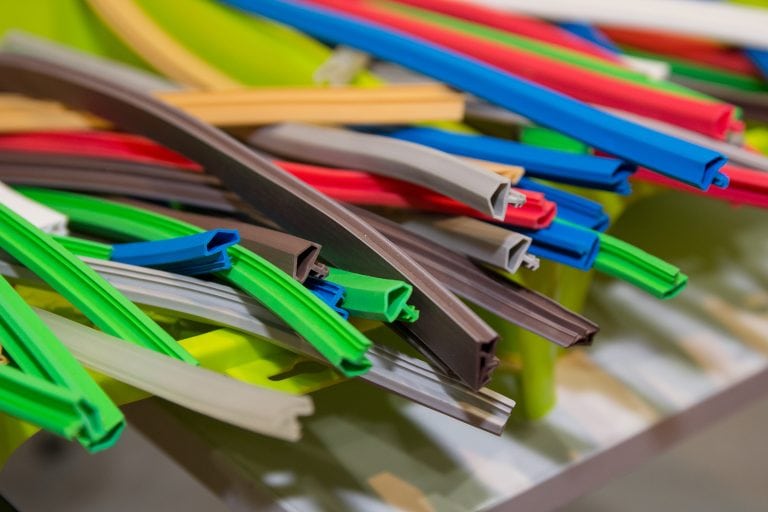 Shock absorbers. Neoprene is often used in seals for shock absorbers.
Power transformers. Neoprene noise isolators are used to reduce sound vibrations from power transformers.
Structural support. Neoprene is highly valuable for use in expansion joints and bearing pads for load-bearing structures.
Windows and doors. Neoprene seals are useful for sealing windows and doors.
Electrical. Neoprene is non-conductive and is therefore widely used to seal electronic enclosures and VAC units.
Hose covers. Neoprene's weather resistance makes it a common material for hose covers.
Ask the Experts at Thomas A. Caserta, Inc.

Depending on your application's specific needs and requirements, both nitrile and neoprene offer a variety of benefits. For more information on the best material for your needs, consult with the rubber product specialists at Thomas A. Caserta, Inc.