Gaskets are mechanical seals used to fill the gap between two mated components. When designed, constructed, and installed correctly, they prevent process fluids from escaping and contaminants from entering sensitive equipment. As these sealing materials play a critical role in many fluid handling and processing operations, industry professionals follow strict guidelines dictating how to design, construct, and install them properly.
In the following article, we cover some of the considerations regarding the design of rubber gasket seals.
Key Design Considerations for Gaskets
The installation of the wrong gasket can result in leaks, damage, and other issues in a fluid system. It can also cause the premature wear and failure of the gasket, which translates to frequent investment in gasket repair and replacement operations. With these consequences in mind, it is important to use the right gasket for the given application. Below we outline some of the factors to consider when designing a gasket to ensure it functions as intended.

Construction Material
The construction material chosen largely determines how the gasket will perform. As such, it is essential to consider what qualities are expected of the finished gasket and what materials fit these requirements. When vetting potential material options, some of the properties to keep in mind include:
Density: the material's mass per volume (lbs./ft.3)
Hardness: the material's ability to resist plastic deformation resulting from indentation, penetration, and other mechanical forces
Elasticity: the material's ability to return to its shape and size after experiencing deformative forces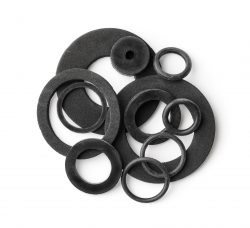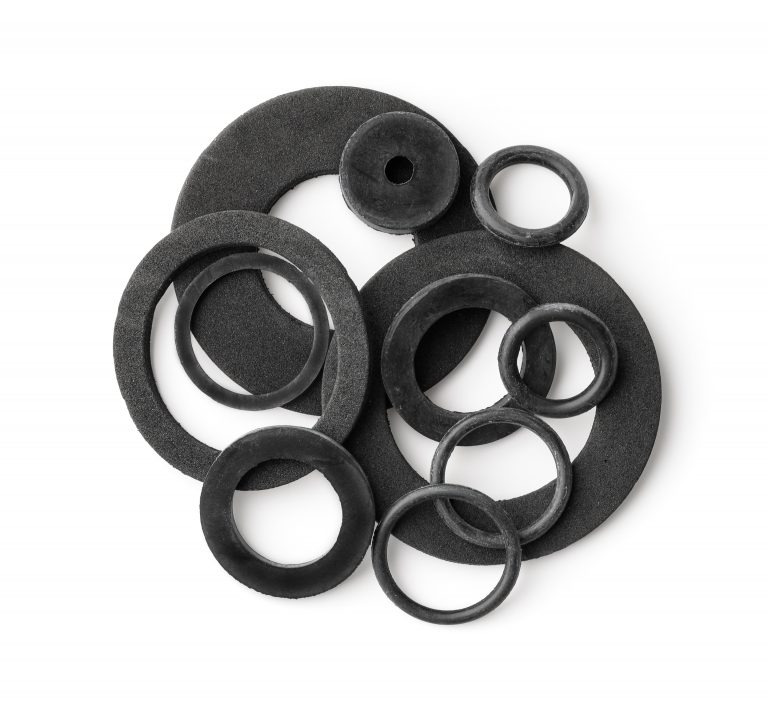 These properties are critical to the sealing performance of the gasket. However, the levels required depend on the system in which the gasket will be installed. For example, sponge rubber (both open-cell and closed-cell) generally exhibits lower density and better elasticity than solid rubber, which makes it suitable for some—but not all—applications. It may be helpful to acquire samples of materials to determine which one best fits a given system.
Some of the most common materials used in the manufacture of gaskets are:
Silicone: Silicone is a highly versatile and resilient material that is available in solid, foam, and sponge variations. It does not react with or deteriorate when exposed to many chemical substances. It is often used for gaskets due to its ability to form a tight seal, remain flexible in high or low temperatures, and resist water, shrinking, and UV and ozone damage.
Neoprene: Neoprene is a synthetic rubber compound that exhibits good durability, resisting damage and degradation stemming from exposure to UV radiation, ozone, chemical and corrosive compounds, and oils and other petroleum-based products. It also remains flexible in temperatures as high as 120° C and as low as -40° C.
Nitrile: Nitrile is a synthetic rubber that finds use in a wide range of applications. However, it is particularly suitable for environments exposed to grease, oil, and water.
Gasket Design
The design of a gasket depends on the system in which it will be installed. Tailoring the gasket to fit snugly between the mated components is essential; otherwise, it will not function as intended. The design elements to consider include:
Shape: the geometric form of the gasket (from the face)
Cross-section: the geometric form of the gasket (from the profile)
Thickness: the distance between the gasket's faces
Request Your Custom Gaskets Today
Application Environment
The operating and environmental conditions to which the gasket will be subjected affect what construction materials and gasket designs are appropriate. When determining the above two factors, it is critical to keep in mind the following:
What temperature ranges are expected?
What operating pressures ranges are expected?
What chemicals will the gasket be exposed to during operations and maintenance services?
The above list of questions is not all-inclusive. There are many other operating and environmental factors that can affect a gasket's performance. Partnering with an experienced and knowledgeable gasket supplier can help determine which gasket materials and designs are suitable for a particular application.
Get Your Custom Made Gaskets From the Experts at Thomas A. Caserta
At Thomas A. Caserta, we've provided precision engineered rubber products—including gaskets—for over 70 years. Equipped with extensive industry experience and quality materials, our team has the knowledge, skills, and tools to design and manufacture custom rubber gaskets for any industrial application. To learn more about our gasket making capabilities or partner with us for your molded gasket needs, request a quote today.