The aerospace and aviation industry is one of the fastest growing industries on a global scale, affecting millions of people on a daily basis.
Reliable aircraft demands top tier components. These parts must have properties of high performance and endurance, since they will be exposed to a range of extreme weather conditions, such as excessively hot or cold temperatures, and different types of oils and gases. It is crucial that jets, commercial planes, and other aircraft can protect both passengers and cargo from the elements.
Many aerospace and aviation components are now being sourced from rubber. Rubber products are becoming more popular due to their durability under extreme environmental conditions and cost-effectiveness.
Rubber Designed for Flight
Rubber products are an excellent option for flight applications. Synthetic rubbers from various sources can withstand highly aggressive aerospace fluids, including:
Engine lubrication oils
Jet fuels
Hydraulic fluids
Oxidizers
Rocket propellants
Some of the common materials that engineers utilize for aerospace and aviation applications include:
Neoprene. This is a good general purpose elastomer that has many desirable characteristics. It has high resilience with low compression set and boasts moderate oil, ozone, and water resistance. It successfully operates within a temperature range of -65°F to 260°F. However, neoprene is not recommended for certain applications like phosphate esters, ketones, and brake fluids.
EPDM. Also known as Ethylene Propylene Diene Monomer, EPDM contains excellent weatherability properties and low gas permeability. It works within a temperature range of -60°F to 280°F. While it is highly resistant to ozone, water, brake fluids, and other substances, it has a low resistance threshold for petroleum oils and diester lubricants.
Silicone. Able to effectively operate in temperatures from -150° to 500°F, silicone boasts the greatest total temperature range of currently used elastomers. While it also has excellent resistance to a number of environmental conditions and outside substances, such as dry heat, brake fluids, and high aniline point oils, it is not an optimal solution for certain applications due to poor tensile strength and tear.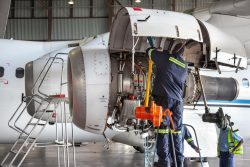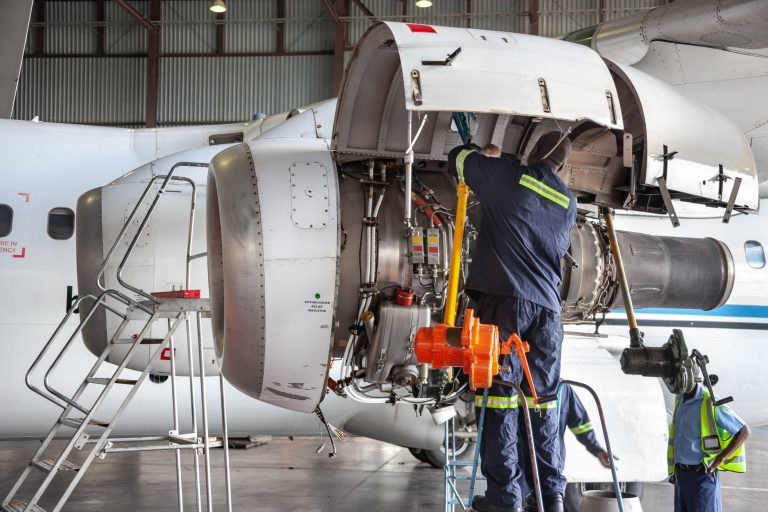 Rubber materials have an array of qualities that make them the perfect choice for aerospace and aviation applications. Some characteristics that stand out include:
A high endurance threshold under extreme stresses
Endurance under extreme temperatures
No need for lubrication between parts
Very little maintenance required, if any
Sound and shock absorption
Long life spans
Applications That Demand Rubber Products
Rubber products have become popular across a broad spectrum of industries. In the aerospace and aviation industry, they have delivered superior performance in applications, such as:
Thermal insulation
Window and door seals
HVAC seals and gaskets
LED lighting gaskets
Vent ducts
Vibration dampening
Instrument panel seals and engine gaskets
O-rings utilized in connectors, valves, and other applications
Hydraulic actuators
Bleed air valves and fittings
Firewall seals
T-seals
Bumpers
Hatch seals and covers
Rubber extrusions
Extruded tubing and seals
Protective boots and bellows
At Thomas A. Caserta, our rubber products are highly customizable according to customer needs and preferences. Our engineers and technical specialists take great pride in designing and supplying safe, robust, and specialized rubber product solutions for a variety of needs.

Contact the Aerospace Rubber Manufacturing Experts
The team at Thomas A. Caserta works hard to ensure that each part for our customers meets or exceeds all the relevant industry specifications and standards. All our custom rubber aircraft components are manufactured in-house, and our stringent quality control protocols and attention to detail guarantee that each client receives a premium product for their particular need.
If you would like to learn more about our manufacturing capabilities or are interested in partnering with us for your aerospace/aviation product needs, reach out to us today.